3.2 Creating, maintaining and updating Actions
Actions, which are the steps undertaken in order to meet specific objectives, can be created for the designed strategic objectives. In the Skefto platform, an action is designated with the symbol
Creating an Action
To create an action from action overview screen, complete the following steps:
Step 1: Click the "create action" button on the top right side of the screen.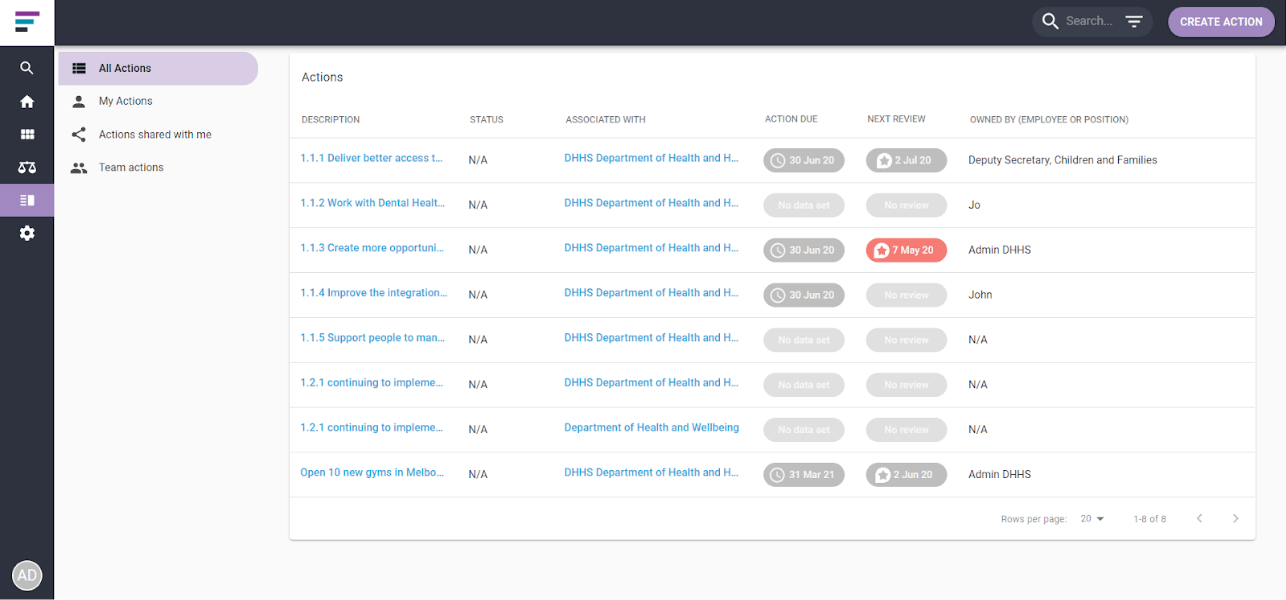 Step 2: Complete the action pane data.
Select the relevant Plan from the look up list

Select an objective/goal/key result from the look up

Determine whether the action is a milestone or not by adjusting the slide rule

Insert Action description

Nominate Owner

Select from the calendars, the action commencement and completion dates

Nominate members to the action by name or position from the lookup facility

Select the priority from the drop list menu

Select Business Units/Activities and /or Business Processes

Then click create.
See below for a completed example: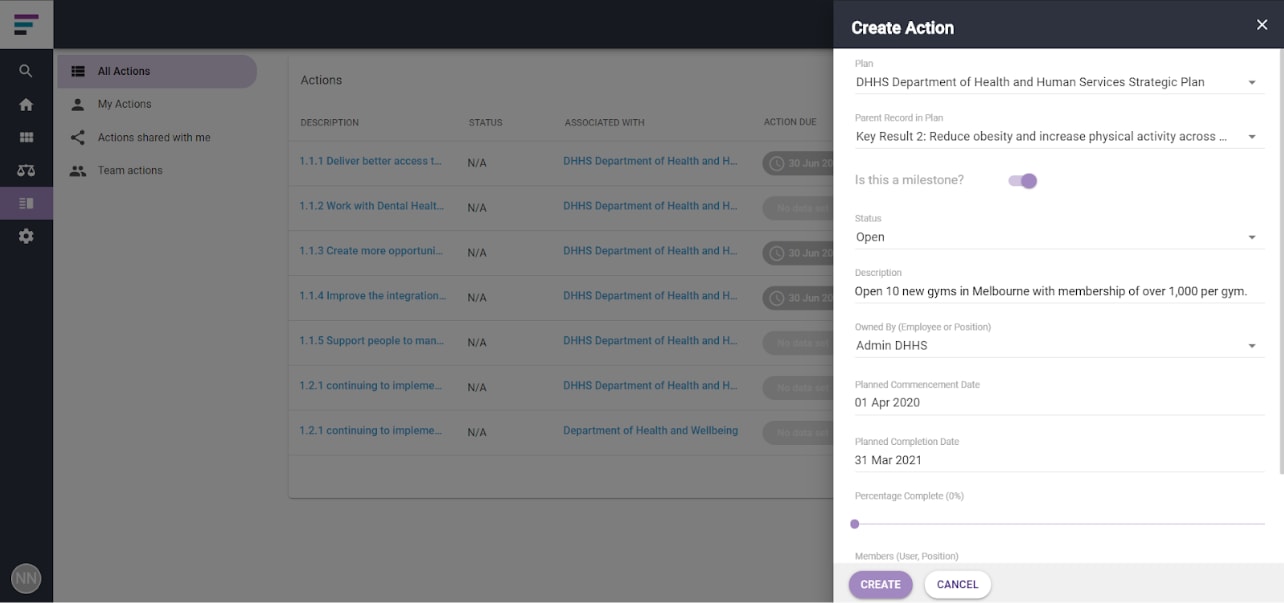 The newly created action will appear on the action overview screen. The next steps for the action is to complete the Activity, Resources and Review  functions for the action.
Step 3: Select the action from the list by clicking on the newly created action.
The following action pane will appear: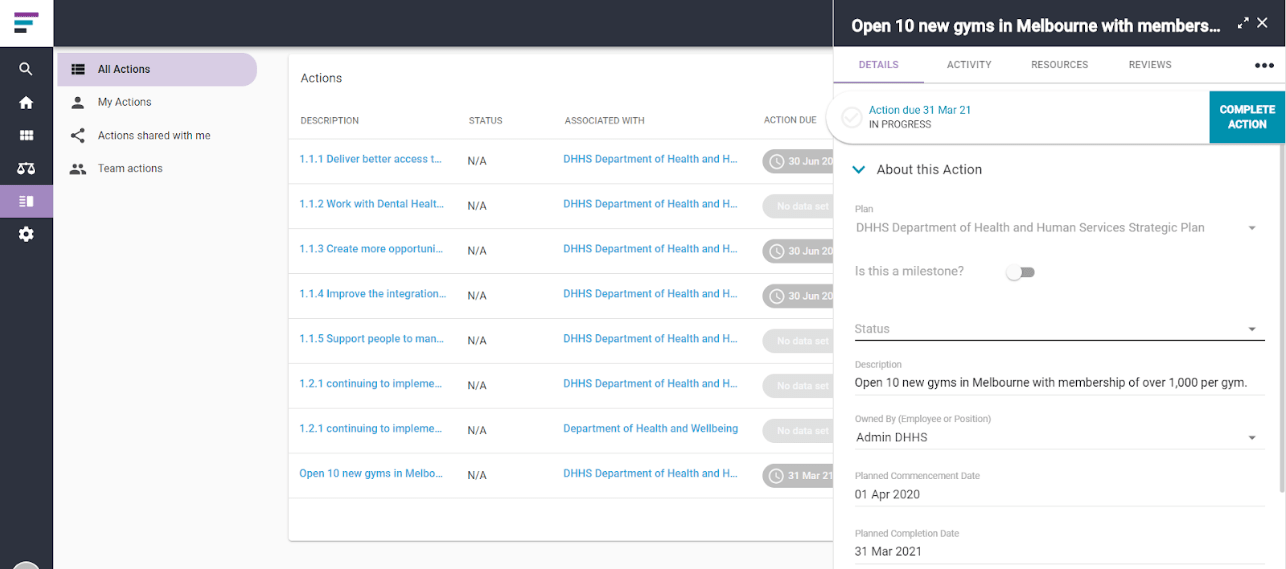 Creating an Activity
Step 4: To create an Activity which includes inserting web links, attaching documents and making comments, refer to the instructions "Adding comments, links and documents".
Creating Resources
Step 5: The Resources tab provides information on the resources required to complete the action. Click the "Resources" tab and then click the "Create Resources" icon. The following pane will appear: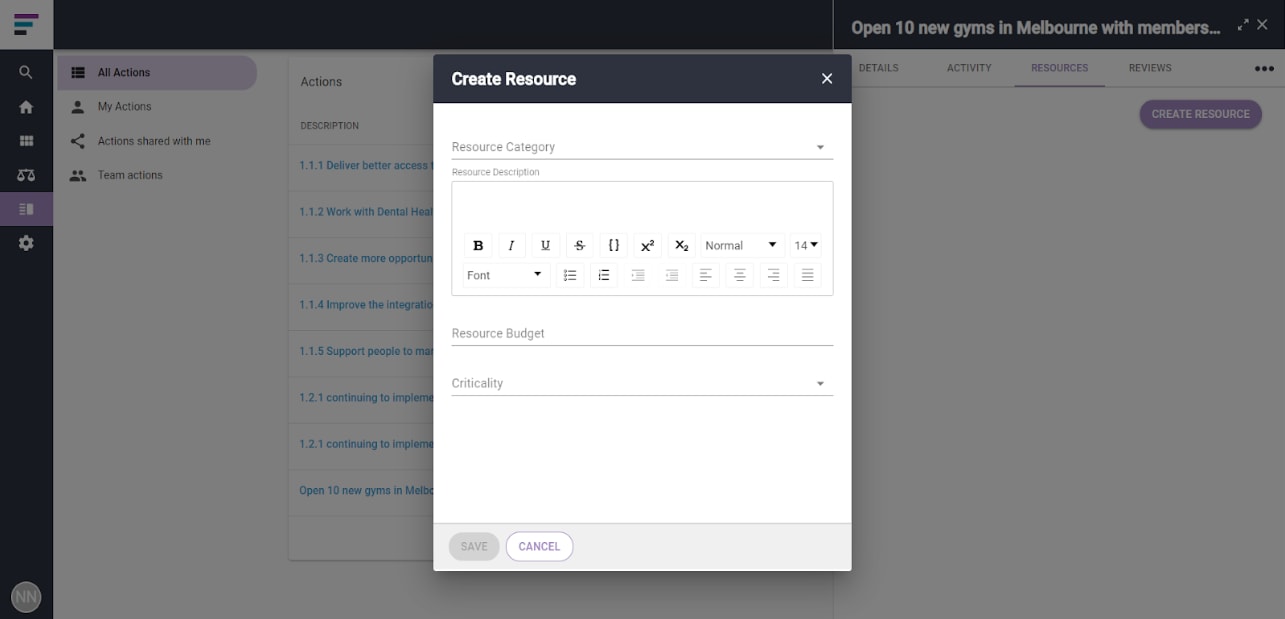 Step 6: From the lookup select the resource category: Human, Physical, Natural, Capital. Provide a full description of the resource, a budget and criticality level, "High, medium or low". The click Save.
See example below: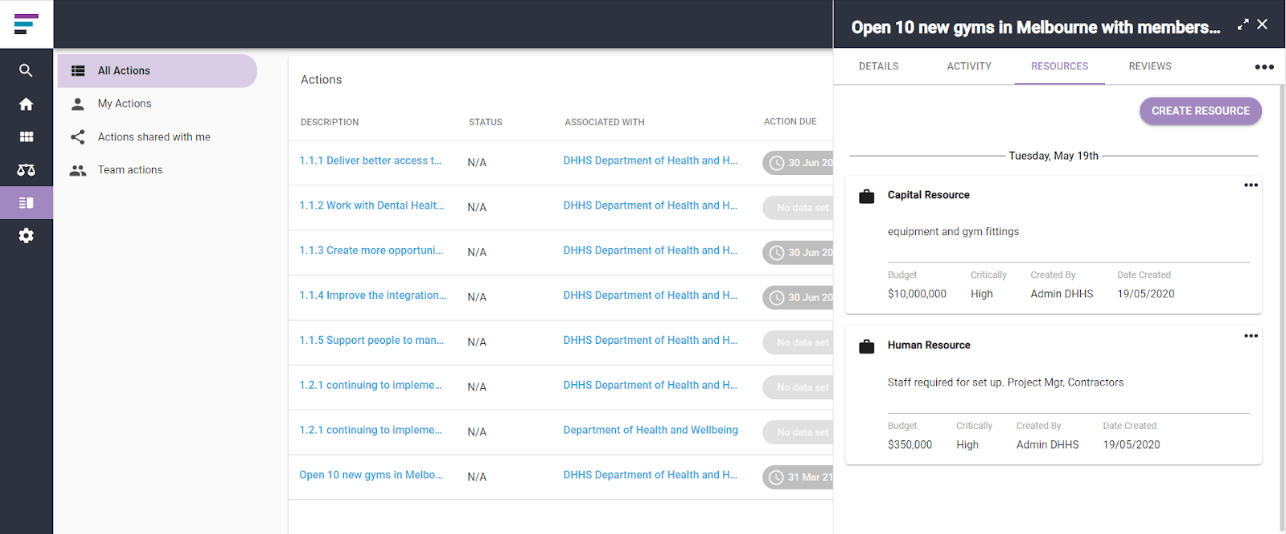 See above for an example of completed resources. The resources can be edited or deleted at any time by clicking the Options icon "…"
Creating reviews for the Action
Reviews can be scheduled for the action by inserting the required details in the "Reviews" tab of the Action.
Step 7: Click on the schedule review icon.
Step 8:Complete the following information:
Schedule repeating review. Use this if a recurring review is required. If not, do not activate the slide rule.
For recurring reviews, insert the number of reviews, and the frequency. Monthly reviews will be "Repeat"- 1 and "Every" months. For quarterly reviews it will be 3. Etc.
Use look up options for period end determination
Insert the "start of reporting period". The decision in Step 2 will automate the end of reporting period.
Specify the reviewers from the look up options and then the completion dates of the reviews.
Nominate the completion date of the completion dates of the reviews
Click "schedule when completed.
Example is shown below.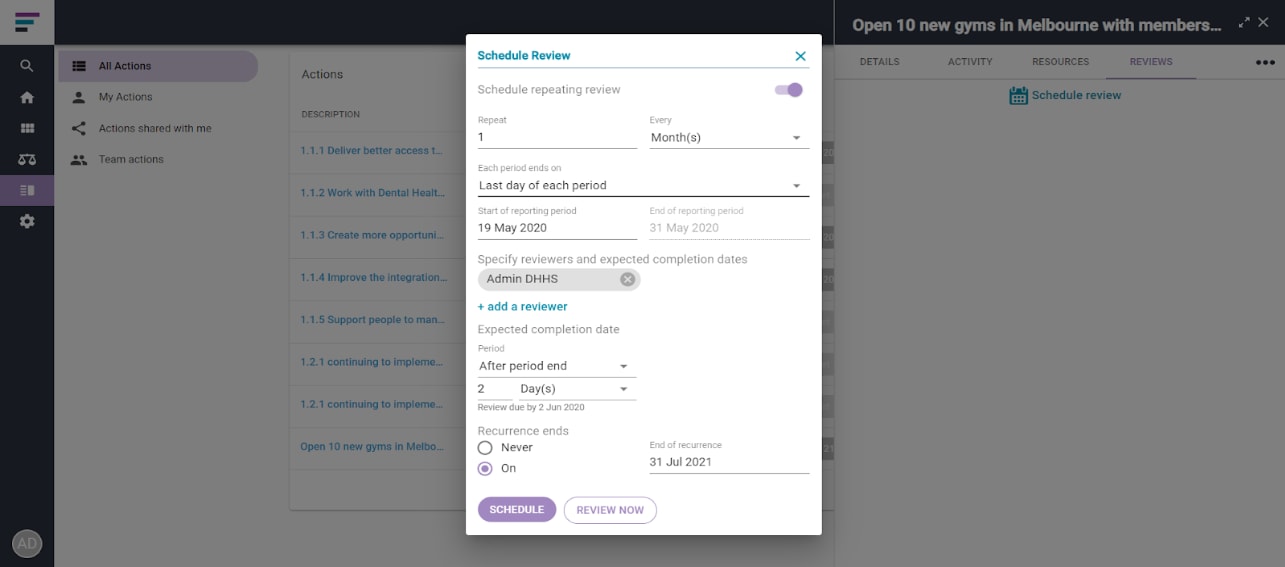 The below will now display the review and resources for the Action.